Post-it Flags: Small Page Flags in Dispensers, Four Colors, 35/Color, 4 Dispensers/Pack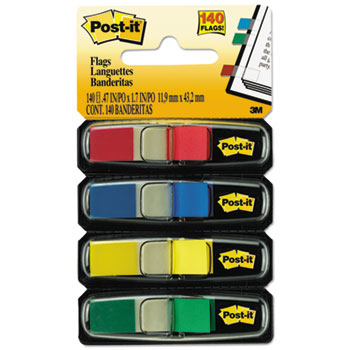 Item:

MMM6834

Brand:

Post-it Flags:

UOM/Pack:

PK (Includes 35 flags/dispenser, four dispensers/pack; 140 total flags)

Weight

0.027

In Stock

7,233

Current Inventory




LOS ANGELES (713) |

CRANBURY (552) |

CHICAGO (531) |

KANSAS CITY (498) |

HOUSTON (497) |

MINNEAPOLIS (455) |

SACRAMENTO (441) |

ATLANTA (440) |

DALLAS (367) |

BALTIMORE (366) |

ORLANDO (352) |

SEATTLE (215) |

FT. LAUDERDALE (213) |

CLEVELAND (198) |

INDIANAPOLIS (191) |

DENVER (179) |

GRAND RAPIDS (174) |

NASHVILLE (141) |

SALT LAKE CITY (124) |

CHARLOTTE (119) |

MEMPHIS (118) |

PORTLAND (97) |

ST. LOUIS (80) |

TULSA (79) |

BOSTON (47) |

ALBANY (46) |

Your Price:$6.48

Savings:10.0% Was: $7.20

Compared To

| | | |
| --- | --- | --- |
| $10.02 | Amazon Canada | January 17 2018 |
| $9.10 | eWay | January 11 2018 |
| $8.26 | Amazon Business Price | January 24 2018 |
| $7.99 | Quill | January 21 2018 |
| $7.51 | Amazon | January 24 2018 |
| $7.19 | Fastenal | January 21 2018 |
| $7.19 | Silver Preferred | January 21 2018 |
Small Page Flags in Dispensers, Four Colors, 35/Color, 4 Dispensers/Pack
SKU # MMM6834
Post-it® 1/2" Wide Flags in a variety of colors are great for color-coding documents. Flags stick securely to ensure your message gets through. Handy dispenser keeps flags organized and easy to find. Color(s): Assorted Colors; Dispenser: Pop-Up; Assortment: Blue; Green; Red; Yellow; Size: 1/2" x 1 3/4".
■ Post-it® Flags Small Flags
■ Smaller yet still eye-catching and colorful for both marking and color-coding.
■ Repositionable and removable small flags.
■ Removable and repositionable—stick securely and remove cleanly.
■ Convenient, detachable pop-up flag dispenser.
■ Can be used alone or in a 3M™ Desk Organizer or Post-it® Flag Dispenser.
Category:Page Flags
Mfr#: 683-4
Brand: Post-it Flags
| | |
| --- | --- |
| Assortment | Blue; Green; Red; Yellow |
| Brand | Post-it Flags |
| Color Type | Standard |
| Color(s) | Assorted Colors |
| Dispenser | Pop-Up |
| Footnote 1 | 35 each of blue, green, red and yellow |
| Global Product Type | Page Flags-Standard Page Flags |
| Height | 1 3/4" |
| Post-Consumer Recycled Content Percent | 0% |
| Pre-Consumer Recycled Content Percent | 0% |
| Reusable/Repositionable | Yes |
| Size | 1/2" x 1 3/4" |
| Special Features | In Detachable Dispensers |
| Total Recycled Content Percent | 0% |
| Width | 1/2" |
Also Consider/Related
2016 © Evolution Demo Store®. All Rights Reserved. Powered by Evolution Software